Linking with Jen for Fabulous Friday.....no rules, just photos.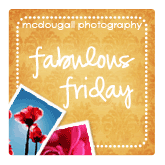 I'm just beyond the half way point of my 365. Lately my 365 is a little bogged down, but I keep shooting and haven't missed a day. One thing I've done during the past couple months is "sit" with my photos for awhile. I shoot every day, but sometimes it's a week or more before I decide which photo from any given day is going to be "the" photo of the day. Maybe I'm just indecisive....but it feels more like when you make a great minestrone soup-it's good the first day, but 3 days later it's fantastic. I think I'm dangerously dangling on the edge of metaphor-land and it's going to get ugly if I don't shut up.
One of the other things I've tried to push myself to do is start taking photos of people. I don't really understand why this is such a challenge to me, but it is. Today I'm sharing a portrait of my friend Annie. She has just the best-est smile and such beautiful blue eyes.....they look even better when she's wearing her fave color blue. She was kind enough to let me play around with my camera....see, told you, good friend.
Annie and I work together and Friday afternoons are usually slow and boring around the office. We watch the clock inch towards 5. When I think Fabulous Friday....I think of fabulous Annie too. Hope your Friday is fabulous, as well as your weekend.
{219/365} My Friend Annie