Linking with two of my favorite bloggers out there....Lisa at the Creative Exchange and Kat at Kat Eye Studio for Exploring With a Camera. Two great memes to check out if they're not familiar to you.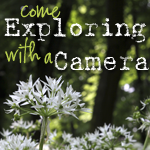 Kat's exploring topic this time is opposing lines. I've been struggling a bit with this one. Glancing through my past stacks the opposing lines weren't popping out at me. I'm hoping the things I found in my travels might be on the right track. One of the nice things about Lisa's Creative Exchange, whatever images move your heart are fodder for the week. You can't lose with that.
Although I enjoy "city" images, I live in a rural area, so many of my normal everyday photos show that. It's not that cities are that far away, but for my normal routine it's lobster boats, beaches, little side streets, and plants. Last week however, I had to make a trip to Portland, so I snagged me a little quick 1 hour photo walk. I like that.
Primary Escape...opposing lines? Yes?
Window Fish
Maybe these?....it certainly struck me as a cool design for a store front window-plus some reflections.
Purple Dress
I like finding different "things" that catch my eye as opposed to what I find around home.
Feet
Oh, I don't know...just kind of struck me.
Porteous
I've had a black and white nudge lately. Hmmmm. Wonder what that's about. I remember my grandmother shopping here at Porteous....which my brother and I like to pronounce Port-ee-us. Opposing lines? Maybe. Well if not, kind of cool shadows and such.
Being a Kid
This little girl cracked me up....do you remember waiting on adults incessantly?
Unruffled
This guy didn't seem to even notice all these pigeons.
Double Parked
A couple of bikes out front of the local art store.
I guess that's about it for my trip to the city. Thanks for taking a peek.... and have a great week.