Linking with my friend Kat for this session of "Exploring with a Camera". If you haven't checked out this wonderful and helpful series, you're really missing out. Punch on through....you can thank me later.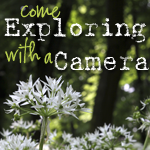 Best thing about Kat, she makes you think. I love learning things, so it's a perfect match for my brain.
The latest installment of
Exploring With a Camera is about picture ratios
, complete with easy to understand chart. Very helpful. Trust me, the word ratio sounds boring, but it's really not and Kat makes it seem easy....even if you're not a math head.
I'd already learned this lesson the hard way. Grrrrrr. Last Christmas I tried hard to stay away from gift giving. I'm not a big fan of the season and keeping it low key helps-I think the ads, music, catalogs, decor that begins on Nov 1 and lasts through Jan 1 (that's 1/6th of the year)-it's just too damn much for me. NO ONE's life is that perfect please and thank you. The chance that there will be a new Lexus in my driveway with a big ass red ribbon wrapped around it and seasonally appropriate snow on the ground and falling from the sky is never going to happen.
What was I talking about? Oh yes, ratios.
So, last holiday season I chose a favorite photo to give to a couple people. Printed it out, framed it up....and blah. The 8 x 10, 4:5 crop totally killed my 8 x 12 image. I couldn't figure out what was wrong. The little 5 x 7 held up better because it was closer to that 2:3 I seem to favor. It killed the image so much it no longer held the emotional response. It became blah. This happened a few other other times too. I was finally brave enough to give my images as gifts and when I framed the 8 x 10 size just didn't work. I finally figured out the problem. I'll have to give those individuals some more better cropped images.
Fast forward to holiday season 2011 (which I'd prefer to begin thinking about on approximately 12/22/11), I thought I'd make a calendar of my images to give to family and friends. I can get a really sweet deal at overnightprints.com. BUT, the size of the calendar image template is 8 x 11. Last night I tried to choose a few-it took a long time so many just didn't work. I'm afraid I may have to consider another way to create a calendar worthy of gift giving at reasonable cost....suggestions?
Here are 3 that I tried to make work (Tim Gunn...."designers, I'm sending in your models"...) Oh help my brain is really quirky today. I'll just show you what I mean.
Here's my original image:
Frosty
And here it is cropped for 8 x 11....this one isn't too bad. My anal retentive self could likely live with this one.

October
The other consideration that's come into play is changing my images from RGB to CMYK which this online service suggests. Some of them held up, but most were quite altered. So much to learn.
Across the Sky
February
Perhaps I was a little heavy handed on the processing, but back in February I wasn't doing any. I also think the CMYK came into play here.
Fish House
January
The brightness in this image doesn't scream in the larger version, but cropped it is way too yellow. I've got to revamp that, AGAIN.
These images were 3 that sort of worked as 8 x 11 but overall this is frustrating. I didn't realize how much I'm framing my image in the camera and in processing-straightening and cropping to a particular size. Obviously I'm drawn to an aspect ratio that isn't favored by calendar makers. I wonder how those professional calendars make it look so easy.
Thanks Kat for reminding me about this ratio "thing" and thanks for the handy chart. I think I'm going to give framed photos instead. Next problem...finding 8 x 12 frames at a low, low price.