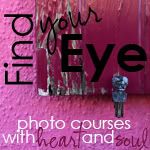 Another fabulous installment of Find Your Eye....thank you Kat. If you think you'd like to find your eye (and I do highly recommend it), zip over to Kat's
brand new site
-bigger and better than ever-and find out when the next journey begins.
I Love Art
This challenge required considering the notion of art and artist and where you fall down or line up in the scheme of things. I am in the midst of taking an Art Appreciation course. I've had several blogger friends ask me if I'm enjoying it and I definitely am. I have been writing a lot of papers-pretty much one due every week-although I know this is great practice, and especially helpful for students transitioning from high school to college, yikes....it's cutting into my time. But, I'm learning a lot. Just ask me about the color wheel or the principles of design. Go ahead; I've got tools in the toolbox where 2 months ago the cupboard was bare.
One of the first essays I had to do was on "What Is Art?" I even wrote it on my blog rather than as a traditional paper. What I blabbered on about (hey, we had to turn in at least 2 pages) ended up in concluding.....
What is art? I don't know. It may be an image you like, the process of creating, the way light flows over form, a yearning from within, a famous work in a gallery or coffee table book, or the emotion felt when you see or create an image or artistic piece. I guess art is whatever you want it to be whenever you want it to be that.
......
and an artist is someone who creates; someone who believes they are a creative being.
I wonder about the role of those who are purely artists. How they come to sustain themselves as such without being "starving artists" with back-up plans. How they stand up boldly and say "this was inspired by birds in the trees on Easter morning" and I'm looking at a pile of left over sardine cans. Do they really feel, see, sense it? Who am I to say they do or don't? Some art appeals to me; some doesn't. Is there anything such as "good" art or "bad" art? I suppose there is, but who am I to judge or critic? I am no one, or I am everyone, or I am just one. Live and let live. I'd like to think that my art touches someone, and I suppose an artist who compiled a group of sardine cans representing birds in the trees dares to offer their creation in hopes that it may reach others. Does it matter if it does? Not sure.
Banner Selfie
(note to self: bulky lens, cell phone, and car keys in jacket pocket do NOT help svelte profile)
Whether someone looks and likes or doesn't look or doesn't like my photos.....do I care? Does it give merit to the artist I am? If someone likes-well it certainly doesn't hurt, BUT I am moved to take photos. I am an artist. My creative being scratches and yearns to do, to be useful, to feel. I would take photos if no one was looking. I have to. It has stopped being optional. But will I always have this "need"? Don't know. I say "don't know" a lot. I think it's okay to say "don't know"....or as a good Mainer might say "hard sayin', not knowin'"...hope you can add in the accent.
I don't know when I decided that I was an artist. I don't know what was "the tipping point". I don't know that it matters. I do know that I own the artist moniker. I bestowed it upon myself. In owning it, some positive energy has come to me. Someone recently bought one of my photos, I was recently asked to shoot some senior portraits for a friend's daughter, and this fall I submitted a photo collage and my image was selected to be the cover for the choral group "Voices From the Heart" brand new CD. My collage has been duplicated 2,000 times. How cool is that? This is the first time I've been able to share the image and that news publicly.
Voices From the Heart
"Don't Wanna Wait for Heaven"
Actually, the recording will be sold for the first time next week, so I don't know that it is even available on line YET. Check back.
Not only are the images mine, but I play African drums to accompany some of the recorded songs, and in earlier years-my hearing was good enough to sing some of these. I'm an artist all over the place in this regard. Am I bragging? I hope not. Just passing on my smiles.
Thanks for reading my thoughts on art and artists. Thanks Kat for helping me dig around inside and figure these things out....or at least put a dent in them.