Morning Flight
Last minute linking with Kat for Exploring with a Camera where this month's topic is silhouettes.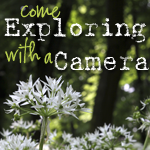 I never realized how much I enjoy silhouettes....until I took a good look at my collection of images. Kat mentioned that it's likely they are taken without much thought...and she was right. I also noticed they didn't appear much in my first 6 months of shooting, but the longer I shoot, the more they pop up in my images, or the more my head swivels when I see an opportunity.
Crane 11
This was a head swiveler for sure. From last summer it was a "screech on the brakes OMG I have to have that" kind of shot. Cranes are cool-they have all those angels and things. Day to day I could care less about them-but against a nice sky. Yum.
Shade Shadows
Sometimes I get confused about whether something is a shadow or a silhouette...like this one. I suppose is doesn't really matter as long as I like the shot. Another head swiveler while I was waiting in a DRs office. Run out to the car, grab the camera, and get stared at while snapping. I can handle it. Embrace your weirdness and remember they likely have no clue there's a chance someone would buy this (well maybe not this one) and hang it on their wall.
This week I tried to be a little more aware and tried to find silhouettes as opposed to them just coming to me.
Tulips in Waiting
I'm not crazy about this tulip in the window shot....I think maybe the forms aren't separate enough-but tulips in February? Gotta give that a try.
Steps in Silhouette
From a low dock at low tide looking up under a pier. I think you have to be an ocean person to "get" this one. I do like the shapes. My light was going fast behind those clouds too.
Morning
An early morning shot, playing with trees. This one has silhouettes and shadows. A two-fer.
On High
And tonight, I climed high to get the final glimpses of sundown.....and then wondered how I would get myself and my camera back down to the ground safely. I managed-but better to think of these things before hand. This image has a hint of shape and color as you can see my hand and watch band. I think I prefer silhouettes that lose their form, but this one is kind of cool too.
Something I didn't try was using the aperature controls that Kat suggested. I just stuck with my manual settings and metering that I'm accoustomed to. Next time I'm in a good silhouette mode, I hope to give those a try.
Thanks to Kat for taking me out "exploring".....Can't wait to find out what next month will bring.