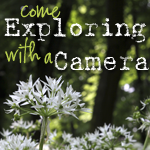 Linking with Kat for Exploring With a Camera on this month's topic-diagonals. Yum.
I use diagonals a lot.
Open Sky
(parallel)
A lot.
Down the Line
(linear perspective/converging)
A LOT!!
When Spring Comes Early
(more parallel)
I think that I can't help myself. I think I do it all the time. Almost any image I take that I actually like....you guessed it; diagonals. I noticed this about my photographs late last year and mentioned it to a friend. "Why do I do this all the time?", as if a steady diet of diagonals might be a bad thing. She said "it's just the way your brain works." She's always noting how my brain works and how my feelings are reflected in my photos-how does she know what I'm thinking? You know who you are too "P". I'm calling you out!
Thing is, I don't shoot diagonally intentionally. But I did try to be a bit more aware in the last week or so after reading what Kat wrote about it.
Side Garden
How about a little organic zig-zag?
Friday Night BW
Or a low POV with linear perspective?
Warm Spring
Or converging diagonals all over the place?
Near the Chapel
I even use light (my fave photog element) in diagonal.
Geez....there's all kinds of "natural" diagonal stuff going on in this one-more than just the light I was thinking about. I guess I'm just not balanced evenly, I'm crooked. I hope that's OK....and I imagine my friend will be analyzing what the hell that means about my brain too. Either that or she already knows.
Gunwale
This diagonal is from March. I love this photo, but didn't share it because I didn't think many people would "get it" due to perspective. This is the edge (gunwale) of a little row boat shot from above. Looks like it has the parallel thing in the boat's line and in the reflections....and an implied line in the little seat that moves from left to right giving a converging diagonal too.
Made for Walkin'
(too damn many diagonals to think about)
I do wonder about the direction of the diagonals I choose setting the tone of faster or slower or moving "backwards" from right to left or down to up or up to down. That must say something else about what's going on in my head. This picture thing is getting a little revealing me thinks. Yikes.
Thanks for checking out my diagonal pics and my mind wanderings. You needn't remind me that this is just how my brain works, well that is unless you want to gang up on me along with my friend. She'd love that.
Have a great day...thanks to Kat for a great topic. You might try exploring with a camera too. You never know what you'll find out about your photos (and your brain).