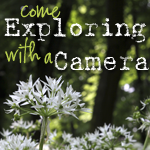 Connecting with Kat over at the "Kat Eye Studio" for this month's
Exploring with a Camera
topic which is Night Photography. If you haven't done a little reading on Kat's blog each month when she shares her Exploring series-I'd like to recommend it. I find the topics helpful in looking or considering my photography in different ways. Sometimes it provides that little boost to get me going again.
Not My House
I don't think I'm very good at night photography. I'm really entranced with light, so darkness isn't very inspiring to me. This time of year when it's so dark is emotionally very hard for me. Me no like it. At all. But sometimes it's all that's left in a day when there ain't no clicks on the camera. Additionally as Kat talked about in a recent post, the tripod, although often necessary, does not appeal to me. It is cumbersome, cold on my hands, and it feels like an enemy not a friend. By the time I've got it all adjusted my energy for the shot is waning.
I actually do like the results of some of the night shots I take though. (
Note to self
: Get out there, damn it.)
The Plains
Here's a shot I took last year. This is a blue hour shot, not really a night, night, night shot, but it totally hits me. I can't remember if I used tripod or not. Shit, I can't remember what I did last month, forget last year.
Shopping

I can remember that I used tripod for this one....because I took it last Friday. Doh!
This silent little artist inspired shopping area-empty for the evening was a great place to mess around. It was quaint and had tons of lights. I did use the tripod, but also ditched it when it became frustrating, and then when back to it later. I suppose that's a good way to keep sane.
Wreathe on the Door
Here's another from that evening-no tripod-this is part of the "maintain sanity" collection.
Lonely Friday Night BW 103/365
I recently shared this, forgive the repeat.....this is my fave from that night, because it is not a holiday shot. I turned my car around to play with this scene, and yes I used the tripod.
There was so much I wanted to capture here-there is a couple in the 2nd window talking and that's what first caught my eye (and of course their dryer went off and they started moving soon after I started). I also like the barren feel. There is a Christmas tree in the far right window and the desolate nature of the empty building aside from those two aspects was the gotcha appeal for me. The car there was a blessing and a curse as I would have liked to move in closer (with my klunky tripod), but you know....you have to make it work, but I think the car keeps the image from being too static and enhances the mood.
Rapid Rays
Store windows are an element of night photography I like. Not in a voyeur sense, but as someone not "in" but outside of life's busyness. A chance to imagine what is happening indoors in the light.

Nighthawks
Here's another night shot-from Cuba. That green glow was legit the color that was there. Reminds me some of Edward Hopper's Nighthawks painting. Charlotte was waiting patiently for her mojito. While I was "in" not out, it has that same kind of feel. I had rented quality lenses so I was able to get this without a tripod which I wasn't permitted to bring. Aw shucks.
Night Blur
Here's another archive shot-one I really like. It puts a little abstraction into the night which I think is kind of cool. Mystery in a shot; I like that.
Well, I suppose I've blabbed on long enough. If you've read this far you get a gold star and a thank you very much from me, and perhaps you should check your sanity level. Egad I made a watch here when I was only asked what time it was.
Oh one more thing: Something on my "to do" list is to make a light box. Got most of the materials, just have to put it together. (Another note to self: I think putting it together now rather than procrastinating until March is a good idea.) I think the light box might be a nice way to off-set the darkness right in my very own home.