Linking with Kat for this month's Exploring with a Camera. I love this series and always learn something. Thank you Kat.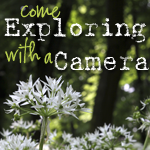 Nothing like being a last minute Joe on this blur thing. I've seen several other's posts about blur and kept wanting to do it. 'Bout time.
The longer I take pictures, the more I enjoy blurred shots. Maybe it's a different way to self-express or I'm sick of taking the same scenes over and over and making abstraction is a nice distraction. Maybe it's just a normal thing that hits most photogs at some point or maybe when first taking photos blur seems "wrong" and time teaches you it's really not. I'm open for interpretation here. Besides if you like it-you can say it's art. Have you seen some of the super funky sculpture of late? Jus' sayin'.
Fluorescent Light
For a long time I've enjoyed shallow DOF images; I use them a lot. This was a mistake I ended up liking. That pink in the backdrop is a woman at the library with her head and back covered with a beautiful scarf. I wanted focus on the magazine, and to have her more visible. I shallowed my field too much, but I like it anyway. BTW....was not at all reading that magazine...trying to be sneaky.
Orange Door 139/365
Add a low POV to the shallow DOF and this is a shot I like to take and seem to rely on often. (OMG with the acronyms)
Dusk Rush 149/365
Here's a night shot that gave a sense of "rush hour" with the subtle blur. I like this too. I don't like when lights get zig-zaggy. That says to me I should have used a tripod-but I'm sure some others are able to create awesome images with that.
Bramble BW 133/365
It was super foggy yesterday and my appointments went over time. Very frustrated not to get some fog images, but here's one from the last foggy day we had.
Red 150/365
And since I got zero images yesterday during "day" light, in order to get my 365 I had to play inside. It gave a nice chance to mess with a longer shutter. No I am NOT doing the dance of the 7 veils please and thank you. I don't know if I like this image or not, but it's different. I shall call it art.
In the Red Door
Reflections are a form of blur I've used a lot. This may have been the first type of blur I used regularly. I've backed off this, not because I don't like it, but to try other things. However, sometimes I see my dashing self reflected and must stop to record the moment. Wish I photoshopped that dirty window smudge off my nose, but otherwise this is a fun shot, especially with that cool window on the other side of the room.
Neon Night
Zoom, Zoom. This was a lame shot that I colorized to do something to salvage it. Art. Jus' sayin'. Are you seeing any theme in me trying to get my 365 done after dark? When does daylight savings start?
Danger
And then there's the intentional blur. I need to remember this more often. It creates a cool mood. I tend to use it more as a fall back option when I can't seem to get the shot I want or anchored with something nearby in focus. This one was intentional however. I did have to go back to fall to find an example of that. Perhaps I'll be mindful to try some of these in the next few weeks.
If you're still reading this long tome, thank you kindly. Tomes R Us. But, when it's my blog I can do whatever I want...and call it art. Have a great day. Blur on!