Linking up with Kat for the home stretch...which is sad. I have really enjoyed this fascinating journey. I know I have one more bonus lesson to go, but then boo-hoo. Thank you Kat and classmates. An extra special thanks to my friend out there who made this journey possible for me.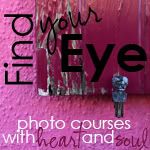 This was my favorite lesson of this journey. I learned so much here about what I'm drawn to. In an earlier lesson I was frustrated because I didn't have a sense of knowing what I liked in my life in general. At least when it comes to photography, I do. Consciously or subconsciously it comes through.
Farmhouse Yellow
Kick the Can


I like horizontal images with a shallow DOF and indirect natural lighting from high to low. I favor monochromatic and analogous colors against a neutral background made more appealing if there's a pop of contrast in color-which surprised me in a monochromatic scheme.
Often the mass is an inverted triangle-heaviness over light weight. Finding a static image in my collection is a challenge. I like subtle implied movement as if someone just left, but I also like shots that are blurred by the subject's movement. I guess timing is a variable.
Diagonal lines play a huge part in the images I capture. Often made more dynamic placed on a secondary line rather than primary but at times you have to take what you can get in the situation. Finding a static image in my collection isn't easy.
I like repetition and patterns to be present and almost always the story of the image is left up to the viewer to create. There's a sense of mystery and the chance to wonder in an interrogative way.
Glass Cubes
Here's an image I'm not crazy about. It has no emotional impact. While I guess I tried to incorporate some color combinations and get a diagonal line in there, this shot bores me. It has no story, no life, no interrogatives-but it's horizontal and monochromatic with a pop. Sigh.
I am analytical. I am. Whether I want to be or not. I believe it is my nature, but also believe that "having a good head on my shoulders", being neat and tidy and organized-these were traits that were expected and rewarded when I was growing up. (There I go blaming Mom again-moms sure take a beating.)
What I'm hoping to focus on is my inner artist and not being obstructed by the technical whiz inside. While it's good to know what speaks my language telling me I have a good photo, I want to leave that in the back seat. I want my artist to hold the steering wheel. I want to feel it, to grow and be rewarded by me-not by someone else's standard.
While I knew I liked diagonals in my images, I didn't know about dynamic vs. static balance. I had to look it up. I found an awesome 3 part, easy to read and understand source. So much so I now look at an image and can see the balance immediately. Cool beans. If you'd like to read it, here's the link.